OUR COMPUTER-ASSISTED ANESTHESIA: THE WAND®
At Schweichler Dental Care, we believe that your comfort and health come first, and we work tirelessly in order to find anesthesia administration that is as painless and precise as possible. The Wand® provides exactly that. With our dentists' expertise and computer-controlled injections enabled by this technology, you get a more painless administration and a more accurate dosage. This means less pain in the beginning and less numbness in the end, so you get an all-around more comfortable experience from start to finish.
Dr. Schweichler uses a computer controlled anesthetic injection system that offers several advantages for patients:
A smaller needle and better flow control virtually eliminate patient discomfort.
Targeted anesthetic – no more widespread numb feeling in the lips and face.
Less anesthetic is required for most dental work.
See why so many patients are saying that it's the best shot they've ever had, and schedule your appointment with us today!
CEREC
Same-day crowns
Dr. Schweichler utilizes Cerec technology to produce beautiful crowns and veneers in a single office visit, at no additional cost to you. No more irritating temporaries, eating restrictions or time-consuming multiple appointments.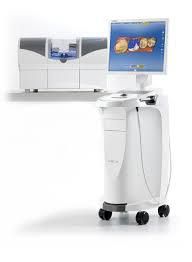 WHAT IS CEREC?
CEREC stands for Ceramic Reconstruction, and it is a sophisticated system of designing and making high quality, metal-free dental restorations in one patient visit. CEREC utilizes 3D photography and CAD/CAM technology to assist a dentist in designing a virtual restoration (onlay, inlay, crown, or bridge) without taking impressions and, when combined with a milling unit, is able to build the actual restoration while you are still in the chair.
After being a "CEREC" doctor for over a decade, I understand the value of what CEREC brings to a practice and a patient. This technology allows us to take digital impressions for restorations (no more gagging on impressions!) and make precise restorations that look excellent, fit perfectly and last a long time — all out of biocompatible, metal-free materials and all in very little time (a typical crown appointment lasts less than 2 hours). And you don't need to come back to finish the work. It's all done in one visit!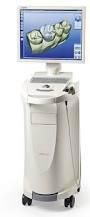 HOW DO YOU KNOW IF YOU NEED A CEREC RESTORATION?
If you have been told you need a new crown, inlay, onlay or bridge, you may be a CEREC candidate. If you have a cracked tooth, old failing restorations or otherwise extensive damage on your teeth, you may be a CEREC candidate. If you are interested in replacing old metal restorations with biocompatible restorations, you might be a CEREC candidate. Essentially, any large restoration in your mouth may be a possible candidate for a CEREC restoration (this is NOT to say that just because you have an old crown, you need a new one. If an old restoration needs replacing, CEREC may be a good option for you).
HOW IT WORKS:
The cavity preparation is first photographed and stored as a three dimensional digital model, and proprietary software is then used to approximate the restoration shape. The practitioner then refines that model using 3D CAD software. When the model is complete, a milling machine scuplts the actual restoration out of a ceramic block using diamond head cutters under computer control. When complete, the restoration is bonded to the tooth using a resin adhesive.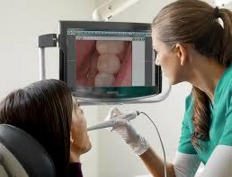 DIGITAL IMAGING AND CHARTING
At Schweichler Dental Care we proudly offer the latest in dental technology to make your experience more comfortable and reduce the amount of time necessary for treatment, and increase the number of dental services we are able to provide. Our paperless digital office combines electronic charting with digital imaging so you can see what the doctor sees!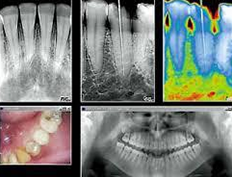 Digital X-Rays
Digital radiography is a tremendous advancement over traditional x-rays. The radiation exposure is approximately 90% lower than traditional dental film x-rays, and amounts to less than the radiation you are exposed to in the natural sunlight over approximately one week. Digital x-rays provide almost instant access to your images, speeding the process by up 20 minutes, so that you can get in and out of the dental office quicker. We use both Panoramic and Individual tooth views to gain a broad image of your teeth, jaw, joints, sinuses, and other areas surrounding the teeth.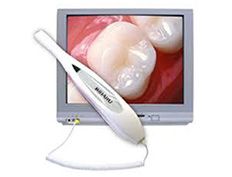 Intra-Oral Camera
The digital micro-camera technology allows the dentist to take a close up view of the inside of your mouth and display it on a computer screen. Now you can see what your dentist can see! This is revolutionizing the way people are interacting with their dental professionals.
CONTACT US TODAY FOR MORE INFORMATION